Welcome to Ralph Overill's artist website

Bud, etching, 2013


My artistic practice leads me to the edges, verges and margins of our world. I respond to the unstable and fleeting position of being in-between, whether through imagining mutations and collisions of natural and manufactured forms or taking inspiration from the undefined and un-noticed spaces that stitch our world together.
​
My collaboration with printmaking processes produces these delicate sites as, more and more, I aim to work on the edge of control, exploring and exploiting the chance and irregularities of each technique.

​I hope that the resulting work is visually generous, not imposing it's definition on the viewer but gesturing with a gentle ambiguity. I see them as fragments, awkwardly dislocated, floating in the nether.

---
Present Arts Exhibition at Parndon Mill Gallery
I am showing some recent etchings in Parndon Mill gallery's Present Arts exhibition which opens on the 1st November and runs til 23rd December.
Royal Academy Summer Exhibition 2018
I am fortunate enough to again have the privilege of being part of the Royal Academy Summer Exhibition. If you visit, look out for my etching Walk Among Dragonflies in the Sackler Galleries (below).
Between the Screens: JAWS Journal article published

I have an article published in the forthcoming issue of the Journal of Arts Writing by Students. It is a peer reviewed essay that reflects on my screen-printing and moving image practices, comparing them to Andy Warhol's silkscreen canvases and early film work using my creative working processes to propose a link between these two bodies of Warhol's work, and in addition, these two screen-based media.

Overill, R. (2018) Between the screens: Screen-printing moving images, Journal of Arts Writing by Students, Vol 4 Issue 1, Intellect Publishing Ltd. pp. 37 - 47.

Click to view the full animation on Vimeo
​HERE
Art in Print journal: Prix de Print award No.25
My recent screenprint 'Over the hill' has been selected for the Prix de Print award and is the subject of a short essay by Nicolas Collins in the journals current issue (Vol.7 No.3 September-October 2017 pp.42-43)
Click below to read the article.

artinprint.org/prix/no-25-over-the-hill-by-ralph-overill/
Powered by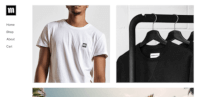 Create your own unique website with customizable templates.